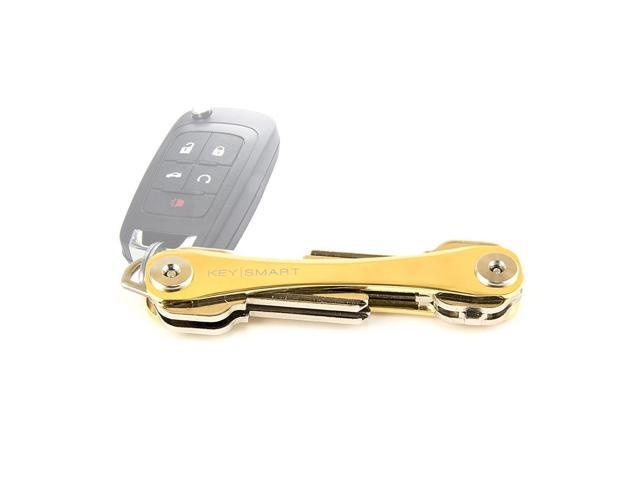 How many keys do you carry around with you on a daily basis? Front doors, back doors, garage doors, safe boxes, car keys .. the list goes on. Once you've bundled them all together, as you normally would, you are left with a large bulk of keys which protrudes from your pocket and often rips the material on the inside.  
Having you keys on you at most times is essential, but having a large and annoying bulk in your pocket isn't it. Having a key holder could be the answer you need to having fully intact pairs of trousers.
A smart solution from KeySmart
Off topic for a moment, the Swiss pen knife has a unique and innovative way of compacting a range of tools into a small and manageable product. There's lots of uses for it and it's a great addition for camping trips and everyday use. KeySmart works in essentially the same way.
Being attached to the key holder at either end by the traditional hole in the key, all the keys attached to the KeySmart are tucked in out of the way until they are needed. Just like a Swiss knife.
The KeySmart is the only key holder to have the unique shape, making it an ideal investment to keep your keys together in a less bulky manner.
Key features of the KeySmart
A major benefit of choosing the KeySmart to organise your keys is that the S shaped design is patented. Which means there isn't another one like it. You can use other methods such a key case or keychains, but the KeySmart takes up a lot less room, looks more stylish and effectively carries out the same job better.
If you're worried about how long it will last, the KeySmart is a very durable tool which has been designed and built to last a lifetime. Constructed with aircraft-grade aluminum and stainless steel hardware, the key holder is tough enough to take on everyday life.
Making the KeySmart more personal is also easily achieved. If you don't like the standard manufactured colour you can pay extra to have your favourite colour used instead. In addition to a colour change, there are also opportunities to add more to the key holder to suit your everyday life such as bottle openers, USB ports and even a nano light device.